Mich'Art Pottery Studio and Gallery is a place for creativity!

If you have ever dreamed of finding the special gift for you or your loved ones, then Mich'Art Pottery Studio and Gallery is the place.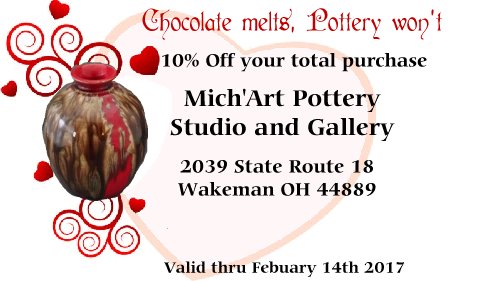 Where I'm At...
Cleveland Concoction

March 10-12th 2017
Cleveland Sheraton Airport Hotel
http://www.clevelandconcoction.org/
What I am doing...
2017-03-07

​Getting ready for the Cleveland Concoction show this weekend. Come and visit us.
2017-02-20:
Unloaded the kiln this morning. Nice pieces came out ! 3 Face mugs, 1 vase, 2 cups. To see pictures, visit my facebook page:
https://www.facebook.com/michartpottery/
2017-02-10:
Made more face mugs today. Carving is done. Now the wait for drying begins.