Mich'Art Pottery Studio and Gallery is a place for creativity!

If you have ever dreamed of finding the special gift for you or your loved ones, then Mich'Art Pottery Studio and Gallery is the place.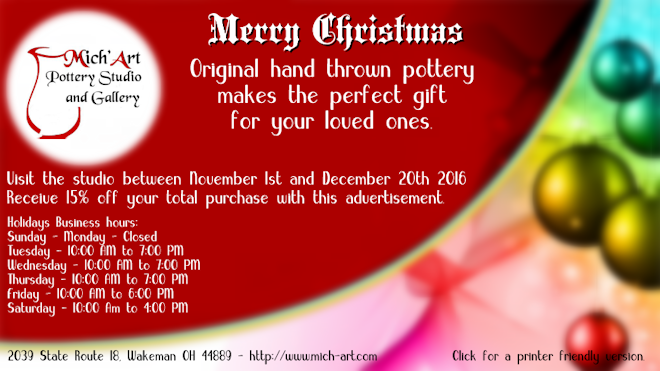 Where I'm At...
Local Market at Amherst IGA
1190 Milan Avenue
Amherst OH
November 12th 10:00 AM to 6:00 PM
November 19th 10:00 AM to 6:00 PM
December 3rd 10:00 AM to 6:00 PM


Wakeman Farmer's Market​
Downtown Wakeman, Ohio
Every Other Saturday
June 4th - October 22nd
The 2016 Farmer's Market has ended, see you there in 2017!

What I am doing...
2016-12-09
We will be closed on Saturday Dec. 10th. Reopening on Tuesday Dec. 13th.

2016-11-30
I am making some special greeting cards. Embroidered with the embroidery machine then put together. I also have some that I hand painted in gouache, ink and gold leaf. Visit my facebook page to see pictures.
https://www.facebook.com/michartpottery/
2016-11-15
I just loaded the kiln with ornaments, lets cross finger. This is the first time I make them and since they are glazed all around, they had to be put on a bar for the firing. We'll see the result tomorrow.