Mich'Art Pottery Studio and Gallery is a place for creativity!

If you have ever dreamed of finding the special gift for you or your loved ones, then Mich'Art Pottery Studio and Gallery is the place.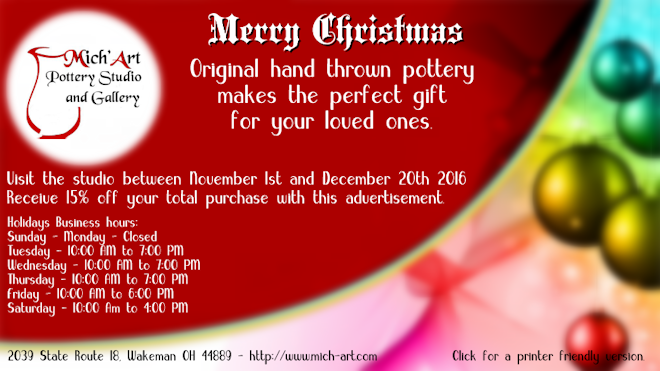 Where I'm At...
Cleveland ConCoction
We will be at the Cleveland ConCoction March 10-12 2017

http://www.clevelandconcoction.org/
Hope we'll see you there

Wakeman Farmer's Market​
Downtown Wakeman, Ohio
Every Other Saturday
June 4th - October 22nd
The 2016 Farmer's Market has ended, see you there in 2017!

What I am doing...
2017-01-20
I took 4 pieces out of the kiln this morning. Those were made with low fire clay and glazed with low fire glazes. For pictures of them, visit my facebook page.
https://www.facebook.com/michartpottery/
The kiln is firing stoneware pieces today. Will be unload tomorrow. Some of them are face mugs. I'll post pictures on my FB tomorrow.

2017-01-12
First, I'd like to wish you a Happy New Year.
I've been working on face mugs. These are coffee mugs with funny faces on them. They are on the drying shelf right now. It will take a week or so before I can bisque fire them.
I do have a couple pieces glazed that will be fired today. I'll post the pictures on Facebook tomorrow.